Falmouth Exeter Plus manages the recycling and waste at Falmouth and Penryn campuses on behalf of Falmouth University and the University of Exeter. We make every effort to reduce, reuse and recycle wherever possible.
Most waste that can be recycled is collected in dry mixed recycling bins that are located across Penryn and Falmouth campuses. These bins are for cans/non-sharp metal, plastic, paper and cardboard. These are sent to Redruth Materials Recovery Facility (MRF) where it is sorted and sent for recovery within the UK. Separate bins are available for glass, which is 100% recycled (this is known as 'closed-loop' recycling).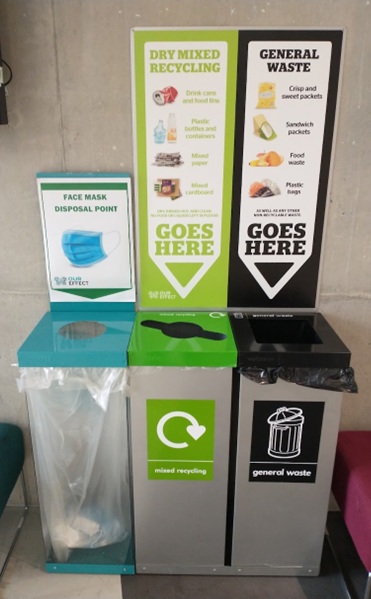 Food Waste
In the Halls of Residence, bins are available for food waste. Food waste is sent to Anaerobic Digestion (AD) plants where it is converted for use as biofuels, generates electricity and creates fertiliser for farming. Food waste collected from the kitchens is also sent to AD plants.
Langage Farm in Devon is one of the AD plants our food waste is sent to. See https://www.langagead.com/ for more information.
An A – Z guide to recycling on our campuses can be downloaded here.
Non-Recyclables
'Black bag' waste that cannot be recycled is sent to the Cornwall Energy Recovery Centre, where it is incinerated. Harmful gases generated are captured, and the energy created is used to power turbines that generate electricity fed back into the local grid. 'Bottom Ash' left behind is sent next door to a facility that processes it and reuses as much as possible as aggregates for construction of roads etc. To find out more about this process, or to arrange a visit, see https://suezcornwall.co.uk/
Questions
If you have any further questions about recycling and waste, please contact recycling@fxplus.ac.uk