If you have a faith, our team can support you to practice your religion or spirituality on and off campus. We also provide pastoral care for everyone (whether or not you have a faith) and we manage spaces on our campuses for you to enjoy.
Pastoral Care
We are not trained counsellors and the pastoral care we offer is not professional therapy. We are interested in journeys through life and will listen attentively to whatever it is you want to share. We believe that every individual has an inherent dignity – or put another way, that each of us is essentially good. This means that we welcome encounters with other people knowing that we might learn as much from you as you might from us. We know that life is full of beginnings and endings, sad times and happy times, joys and challenges and that sometimes we need company and a listening ear. After listening we may suggest you access other support services and can help you with that. Naturally, we are always happy to talk about religion, faith and spirituality but in the context of pastoral care we would only do that at your request.
Spiritual Care
The chaplaincy also offers support for your spiritual journey. We provide sacred space, companionship and conversation no matter what your starting place is and whether or not you consider yourself to be religious or spiritual. We offer specific support for religious needs – finding people and practical resources to enable you to practice your faith on and off campus. We have close connections with the Cornwall Faith Forum who help us to link you with smaller faith communities that have a less visible presence on campus. We also offer support for anybody finding it difficult to be a person of faith and advocate on your behalf when necessary; and we enjoy helping with relevant academic projects that involve faith or spirituality.
Our Chaplaincy Team
Our chaplains are mostly of volunteers from local faith communities. They are very friendly and approachable and really care about what matters most to you. We will also do our best to connect you with someone of a specific faith community within the local area if you require.
Fran Freeman
I've lived in Cornwall for about 15 years and feel very grateful to live in such a beautiful part of the world. My favourite activities are walking along the many coastal paths, swimming in the sea, BBQs and picnics, coffees out and the cinema. I believe that everyone yearns to find the true version of themselves and I hope that at the Chaplaincy you may find it. I look forward to meeting you whether you have a strong faith or none; what matters is that you are searching.
Jan Webb
I am a vegan who loves baking and I enjoy being part of Red River Singers. I love walking, gardening, reading, labyrinths and laughing. I'm looking forward to meeting you.
Pete King
I retired to Cornwall 5 years ago having taught History and Criminology for 30 years in various universities. My golden retriever dog Bailey comes into the chaplaincy with me on a Friday and he loves spending time with students. I go to Harbour church and I am also involved in a non-denominational discussion/prayer group in Mawnan Smith. My wife and I have to a contemplative garden in land behind our house on the Helford Estuary.
Pete Amoss
I am a Father to 4 and a Grandfather to 7 and they are in 4 Countries on 3 Continents! I have lived in London, Essex, Hertfordshire, Wales … and Paraguay! I've worked in construction, the health sector and as a Prison Chaplain. I have found myself enjoying being both a pastoral 'people' person and a creative practical 'hands-on' person. My wife and I moved to Cornwall to help with the setting up of Falmouth Vineyard church.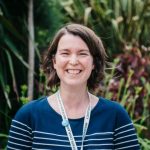 Rebecca Nesbitt
Hello, I'm Becky, the Co-Ordinating Chaplain and it's my job to manage our lovely chaplaincy team. I live in Penryn with my husband, my son, stepson and our cat Diesel. I'm a big believer in Higher Education as a space in which we can all grow and I'm passionate about the unique service our team offers to our community. I believe very strongly in the inherent worth of every individual and love accompanying staff and students on their journeys.