Koofi is our Penryn Campus pizza café, located near Glasney Village, Glasney Lodge and Peter Lanyon. It serves Starbucks coffees, paninis, snacks and of course, fantastic pizzas. There is space to relax inside and a great sun terrace outside – a perfect place to sit with a chilled smoothie, iced coffee or milkshake.
As well as Starbucks coffees, we serve hot chocolate and Teavana tea. Our chilled smoothies are vegan certified. Neo pizzas are available all day.
Fairtrade is important to us. Starbucks coffees are Fairtrade and Teavana teas are part of the Ethical Tea Partnership.
Where possible our disposables (cutlery, hot drinks cups and takeaway packaging) are environmentally friendly – either compostable, biodegradable or recyclable.
We encourage you to drink in our cafes or use reusable cups for take away. We have a range of reusable lidded cups for sale and, if you buy one from us, your first hot drink is complimentary.
The sustainability of our products is of great importance to us which is why we try to use local suppliers for our meat, fruit, and vegetables wherever possible in all our units.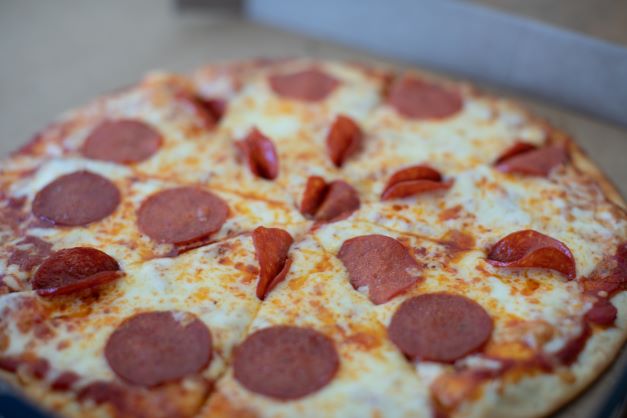 Koofi Meal Deals
Great for sharing!
Buy any two 10″ vegan or margherita pizza for £11
Buy any two 10″ pepperoni pizza for £12
Garlic bread pizza for £3*
Can of drink for just 90p*
Potato wedges for just £2.50*
*with the purchase of any 10″ pizza
Hot Drink Loyalty Card
Collect a hot drink loyalty card for use in any outlet on campus. A complete loyalty card (10 stamps) can be redeemed for any regular hot drink or iced coffee. Terms and conditions apply.
10″ Pizzas
Vegetarian – £6.00
Tomato, chargrilled vegetables, mozzarella topped with rocket (V)
Vegan – £6.00
Tomato sauce, chargrilled vegetables, topped with satay sauce topped with rocket (VG)
Margherita – £6
Tomato sauce, mozzarella, parmesan and fresh oregano and basil
Pepperoni – £7.20
Tomato sauce, mozzarella, pepperoni, oregano, parmesan topped with rocket
Farmhouse – £7.50
Tomato sauce, mozzarella, turkey ham, mushrooms, fresh parmesan and fresh basil
Hawaiian – £7.50
Tomato sauce, mozzarella, turkey ham, pineapple topped with fresh basil
Pollo – £9.00
Tomato sauce, mozzarella, chargrilled chicken, fresh parmesan topped with BBQ Sauce and fresh rocket
Meat Feast – £9.00
Tomato sauce, mozzarella, pepperoni, ground beef, chargrilled chicken topped with fresh rocket
Side Dishes
10″ Garlic Pizza Bread – £3.80
10″ Cheesy Garlic Pizza Bread – £4.80
Potato Wedges & 2 dips – £2.80
Opening Hours

Monday 08:30 – 18:30
Tuesday 08:30 – 18:30
Wednesday 08:30 – 18:30
Thursday 08:30 – 18:30
Friday 08:30 – 20:30
Saturday 13:00 – 20:30
Sunday 13:00 – 18:00
Koofi is proud to serve authentic Neo Pizzas, crispy, crusty and delicious!
Need a gluten-free alternative? No problem! We have special gluten-free bases available. Some toppings may contain gluten, so please just ask when ordering.
For further service offers and updates, follow Food & Drink on Instagram, Facebook and Twitter.