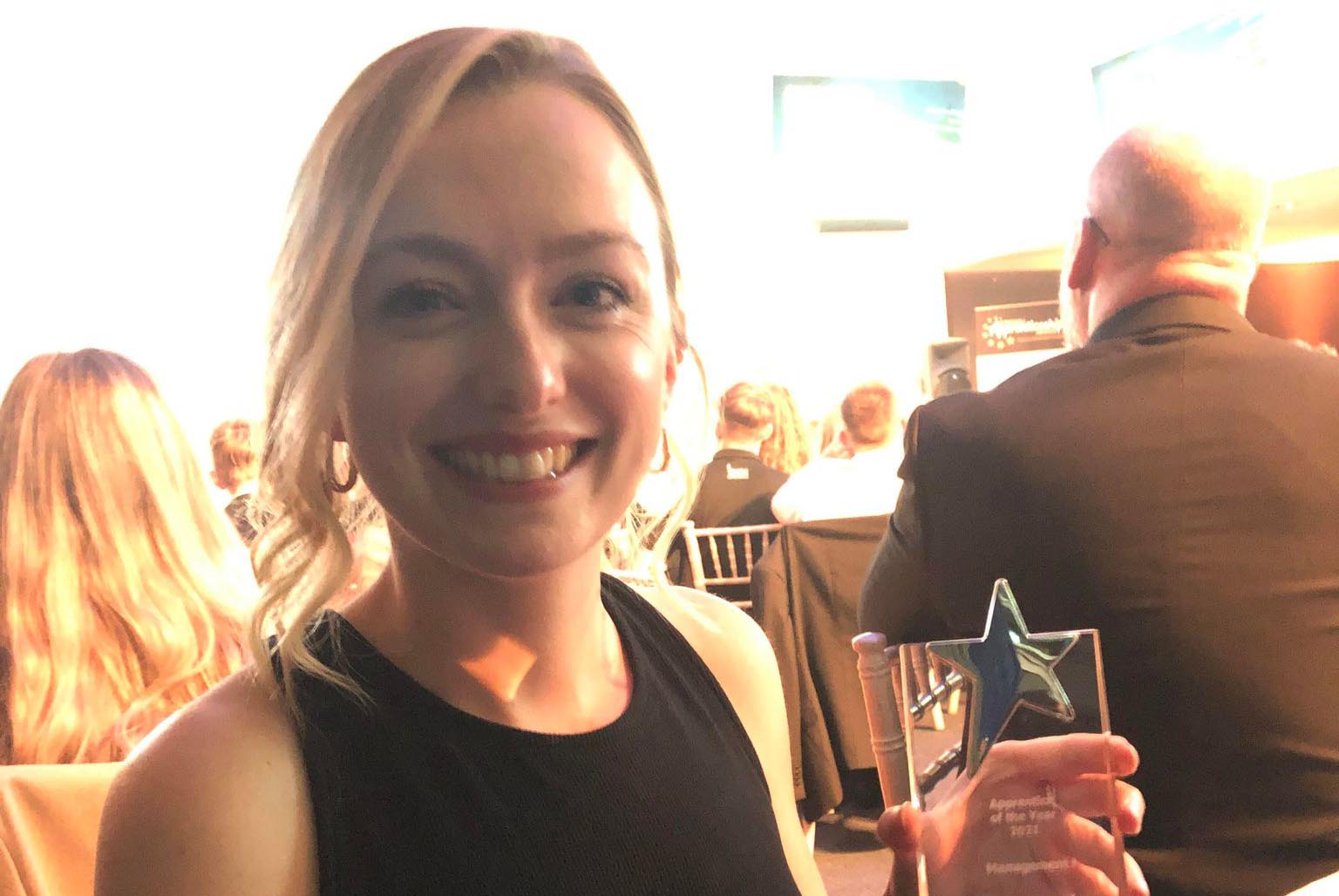 ~ minute read.
Management apprenticeship award
November 26, 2021
Congratulations to Emily Stanbury, winner of the Management category in this year's Truro and Penwith College Apprenticeship Awards.
IT Project Manager Emily, who has been working for Falmouth Exeter Plus (FX Plus) for nearly seven years, said: "I was very surprised to win as the other candidates had clearly achieved a lot on their courses and I won it in 2019 so I didn't expect it again. It was nice to be shortlisted and be able to go to an event after so long."
Stuart Gaslonde, FX Plus Director of IT and Digital Services, said: "This award is well deserved – Emily has worked really hard over the years and we are delighted that we have been able to support her with the appropriate training to expand her skills. At FX Plus we are very keen on supporting apprenticeships and other training opportunities."
Emily started with FX Plus as a Service Desk Support Technician and moved on to Print Services Manager, which is when she started the apprenticeship to support that role. During the apprenticeship she got a secondment to Project Management which was recently made into a permanent position.
She said: "The course I did was a combination of a diploma and apprenticeship and was called Level 3 Team Leader Supervisor. I had to spend one day a week working on the apprenticeship as part of my role. This could be a day in college, writing assignments or taking on extra responsibilities in my role. I also had to complete work in my own time due to the amount of work there was to complete as part of the diploma.
"I did the apprenticeship to support me in the promotion to Print Services Manager. I wanted to improve my skills and confidence in my abilities but also to look into other areas of management I would be interested in. This turned out to be project management!"
Emily, who was also a highly commended runner up for Apprentice of the Year, has more plans to progress. She said: "Next, I have been selected to take part in a programme called Aurora which encourages and develops female leaders in Higher Education. It begins in January so I am looking forward to starting that."
Truro and Penwith College Apprenticeship Awards celebrates exceptional achievements. After a break because of the COVID-19 pandemic, this year's gala awards dinner (on Friday 19 November) was presented by Holly Day and Neil Caddy from Pirate FM.