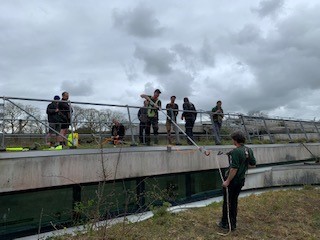 ~ minute read.
Rooftop Training Day
May 11, 2022
Our Estates and Grounds maintenance teams have recently completed their rooftop safety training. Required every three years, Rig Systems led this session with participants learning how to stay safe on roofs and near unprotected edges. The one-day course included:
Legislation when working at height.
Risk Assessment for rooftop working.
Rooftop hazards and control measures.
Safe use of ladders (fixed & portable).
Edge protection.
Work restraint systems.
Fall arrest systems.
Emergency recovery plans
Our Health and Safety (H&S) team organises a whole variety of training sessions relating to employees' work activities. Directors and other senior leaders from FX Plus and Falmouth University will soon be having their own bespoke day's sessions covering legal responsibilities and liabilities.