We are passionate about service excellence within the IT and Digital Directorate and we strive to put the customer at the heart of everything we do. By listening to, and reviewing feedback about our services and identifying necessary service improvement programs, we help to drive a culture of service excellence and innovation. We promote customer centric behaviours by putting the customer at the heart of all directorate planning and delivery activities, working with the Directorate's senior management team to realise continual service improvement.
Customer Service Excellence Standard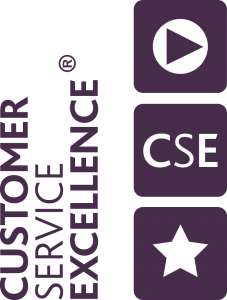 On 24th March, IT & Digital Services held their Customer Service Excellence Standard 12 month review assessment. IT & Digital Services are committed to providing the highest levels of service and support to all customers and so were extremely pleased to not only score 'full compliance' across all 57 elements of the assessment for the second year running, but also to achieve compliance plus scores in the areas of 'Customer Insight', 'Culture of the Organisation' and 'Delivery'.
The Customer Service Excellence Standard is a Government quality standard for customer focused teams and organisations. CSE is based on a rigorous assessment of 57 elements grouped into 5 criteria.  IT continue to hold their place in the Customer Service Excellence holders directory
IT & Digital Services Customer Charter
To Drive Innovation and Deliver Trusted Technology
IT and Digital aims to provide an excellent customer experience, using feedback to drive customer-focused change, putting the customer at the heart of everything we do. This charter informs you as our customers, what standard of service you should expect when dealing with IT and Digital Services.
Our commitment to you:
Communicate with you professionally, in a timely manner and in a way that suits you
We aim to
Answer all telephone calls to the Service Desk within 30 seconds during Service Desk opening hours.
Offer face to face, email, phone and self-service support.
Pass any email communications sent to the Service Desk to the appropriate support team within 3 working hours. (Contacting us via our self-service portal is often quicker).
Provide out of hours support for any emergency incidents.
Keep you updated at all stages of your enquiry through to resolution.
Contact you within our specified response and resolution times.
Complete at least 92% of incidents within our Service Level Agreements.
Follow our documented processes to achieve the best outcome.
Treat you with the highest level of professionalism, dignity and respect
We aim to:
Interact with you in line with the FX Plus values and behaviours and the dignity and respect policy.
Listen to your feedback and use this to drive customer focused change.
Put you, our customer at the heart of everything we do.
Provide you with helpful and relevant information
We aim to:
Provide you with correct and accurate information at the right time.
Ensure that any published information about our service is correct and up to date.
Use jargon free language.
Provide useful information, FAQ's and step by step guidance to help you resolve any query you might have as quickly as possible.
How you can help us
You can help us meet our aims by:
Following the correct procedure for logging an incident or service request.
Providing clear and accurate information when logging an incident or service request.
Letting us know if our services do not meet the standards you expect.
Being respectful in your interactions with our staff, in line with the Dignity and respect policy.