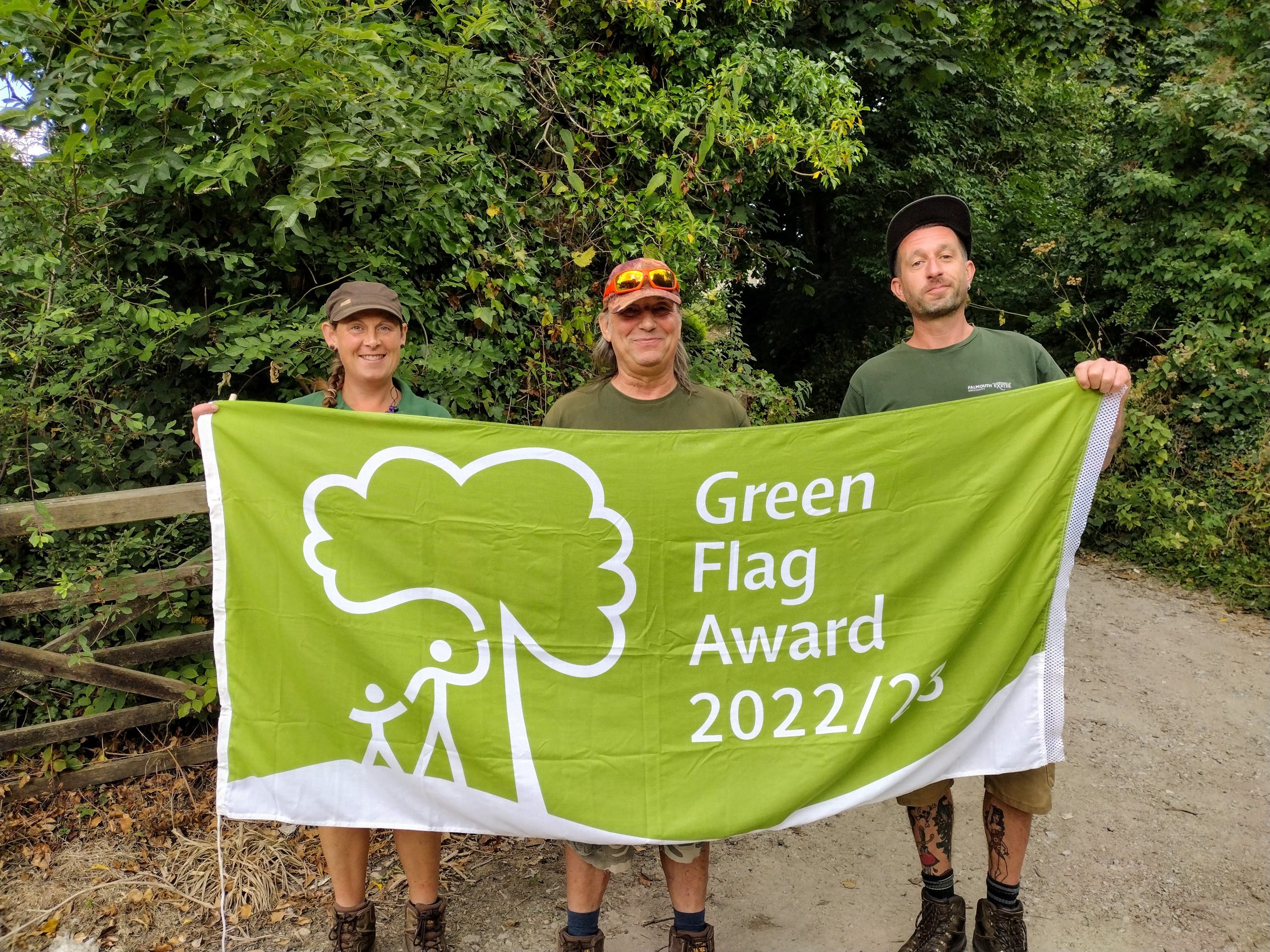 ~ minute read.
Green Flag Winner 2022
July 26, 2022
The gardens and grounds at Penryn Campus have been recognised by the international Green Flag Award Scheme as among the very best in the world, for the sixth year in a row.
The Green Flag Award scheme, managed by environmental charity sKeep Britain Tidy under licence from the Department for Levelling Up, Housing and Communities, recognises and rewards well-managed parks and green spaces, setting the benchmark standard for the management of green spaces across the United Kingdom and around the world.
Penryn Campus is shared by Falmouth University and the University of Exeter Cornwall and the historic grounds are open to the public.
Oliver Lane, FX Plus Director of Residences and Facilities, said: "We are delighted to have retained this award for a sixth year. It highlights the hard work of our teams and volunteers – both students and staff. Particular thanks should go to Toby Nenning, Grounds and Gardens manager, and Casey Thomas, Head of Facilities Management, and to their teams.
"Both Falmouth University and the University of Exeter are dedicated to sustainability under their Climate Emergency declarations and a key part of this involves supporting green spaces and the biodiversity on our beautiful campus."
Keep Britain Tidy's Accreditation Manager Paul Todd said: "I would like to congratulate everyone involved in making Penryn Campus worthy of a Green Flag Award. It is testament to all the hard work of staff who do so much to ensure that it maintains the high standards demanded by the Award."
Penryn Campus blends historic sub-tropical planting with newly created landscapes. and are a haven for a diverse range of plant and animal species. The gardens are open to everyone include a walled garden; herbaceous beds; sub-tropical planting; fruit producing orchard; Italian garden and terraces; an 18th Century lime avenue; parkland; a drive with Pinetum native woodlands and historic rare rhododendrons which were cultivated on the site in the Victorian era.
A six-person Grounds Team manages about 150 acres there as well as the smaller, equally beautiful Falmouth Campus.