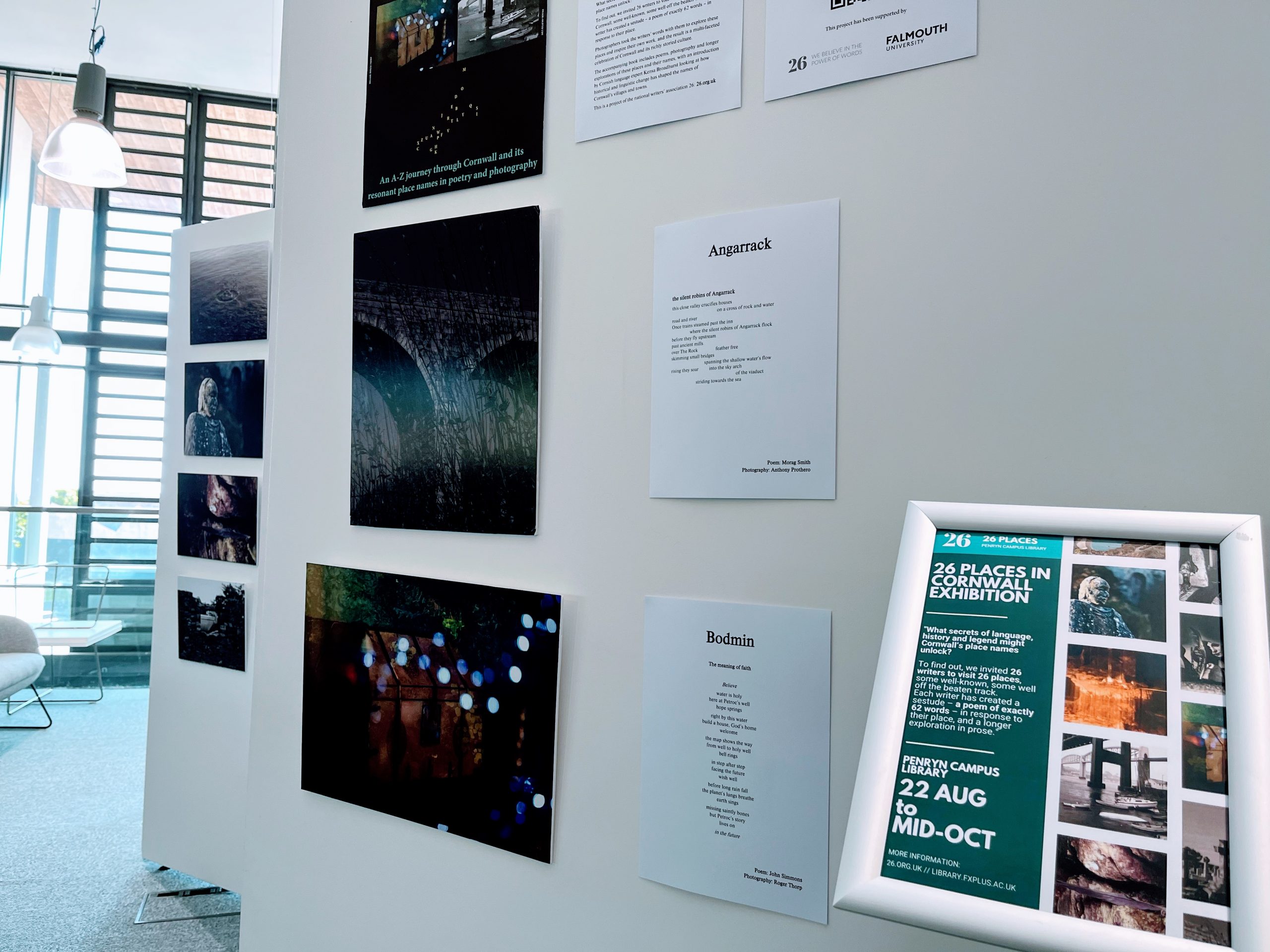 ~ minute read.
26 Places in Cornwall Exhibition at Penry Campus Library
August 23, 2023
Work by students from Falmouth University's School of Communication and Institute of Photography is currently on show in the exhibition space next to the Compass Desk at Penryn Campus Library. The display takes viewers on a unique A–Z journey through 26 Cornish places and their richly resonant names, in poetry and photography. A beautifully produced book designed by a team of Graphic Design BA(Hons) students, also accompanies the exhibition.
The exhibition seeks to unlock the secrets of language, history, and the legend of some of Cornwall's place names. To do so, the national writers' association invited 26 writers to visit 26 places around Cornwall, some well-known, some well off the beaten track. Photographers then took the writers' words with them to explore these places and inspire their own work, and the result is a multi-faceted celebration of Cornwall and its richly storied culture.
Julia Webb-Harvey, a Falmouth-based writer, PhD student and co-organiser of the project, said: "Like many people who live in Cornwall or come here as visitors, I've long been fascinated by the wonderful resonance of Cornish place names. There's so much history and so many fascinating stories behind these, and that's what we wanted to uncover.
"We've included places for every letter of the alphabet and in every part of Cornwall. Finding an X was challenging but it turns out there is one – though it's not at all easy to get to!"
Each writer has created a 'sestude' – a poem of exactly 62 words – in response to their place, and these are being shown alongside the photographers' work at Penryn Campus Library.
The accompanying book includes poems, photography and longer explorations of the places and their names, with an introduction by Cornish language expert Kensa Broadhurst looking at how historical and linguistic change has shaped the names of Cornwall's villages and towns. Penryn Library have three physical copies of the book, titled '26 Places in Cornwall', available in their collection to be borrowed.
Tom Scott, a writer and Falmouth University lecturer who helped organise the project, said: "I was assigned to Nancekuke, near Portreath, which has not only a fascinating history but also a mysteriously ambiguous name. The Cornish language has changed over time, and possible derivations from Kernewek include phrases meaning 'blind valley', 'empty cemetery', or possibly even 'cuckoo valley'.
"At one time it was home to the UK's largest chemical weapons factory, but before that it was a popular spot for picnickers from nearby Redruth, and famous for its splendid turnips. It was an extraordinarily beautiful spot to visit, but it also felt haunted by many ghosts from the past."
The celebrated Falmouth-based poet Penelope Shuttle was assigned to Feock and was so inspired by it that she produced 26 sestudes responding to the place and the shadowy saint from whom it takes its name, five of which are included in the book.
The photographers contributing to the project are all Cornwall-based and include several who have shown internationally as well some of Falmouth University's most talented student photographers.
Tom said: "Being able to involve students in collaborations like this is one of the best things about teaching at a multi-arts university. It's a great way of challenging them creatively and gives them valuable experience of working on high-profile projects alongside professional practitioners. And the work they've produced for the show is stunningly good."
The exhibition at Penryn Campus Library will run until Friday 20 October. The library is open from 9am to 8pm Monday to Friday, from 10am to 6pm on Saturdays, and from 12pm to 6pm on Sundays.
Penryn Campus Library is home to an archive of books that have been born out of previous 26 projects with partners including the V&A Museum, the London Underground, PEN International and the British Library.
The book that accompanies the show, 26 Places in Cornwall / 26 Tyller yn Kernow, can be bought at the Falmouth Bookseller or from the 26 website, where you can find out more about the project.