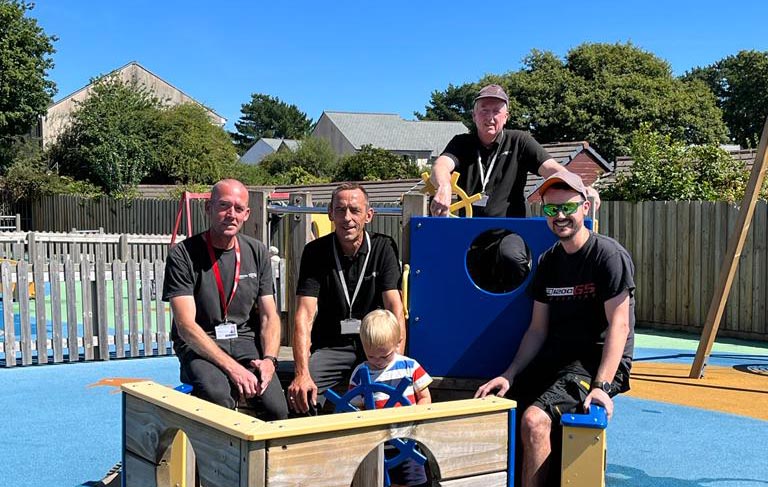 ~ minute read.
Dream Team Graffiti Clean
August 11, 2022
Members of our FX Plus Facilities team have been taking their cleaning skills off campus to help a local community initiative.
The children's park in Mabe had been covered in graffiti so four of the facilities team stepped up to help other volunteers from Mabe in the clean-up operation.
Facilities Operations manager, Lynn Storey, explained: "I noticed a post on the Mabe Youth and Community Page on social media, which stated that the children's park had been graffitied badly. I mentioned it to Rick Taylor to see if he had any ideas of how to remove it as we have all sorts of magic potions and equipment that can do wonderful things.
"Rick, Rob Eddy, Richard Barron and Paul Leyes all went across armed like the ghostbusters and completely blitzed it along with other members of the community. Due to the type of material the climbing equipment is made from, the team were a bit worried about how much they would be able to remove however it turns out they removed the lot!
"It's so important that we can help our local community as much as possible and the whole team believe in this sentiment too. Richard lives in Mabe (as do many others with the Facilities Team) so I know this would have meant a lot for him and his family too."
The team has since received a message from the chair of Mabe Youth and Community Project: "Lynn….can I just say a massive thanks to Rick and his team – a real A team – who came over today and have managed to remove virtually all traces of the graffiti to the delight of not just me but several adults and their children who were using the park today. They had all the right gear and gave me a useful idea or two for the future. Once again, on behalf of the children of Mabe and MCYP…many thanks."