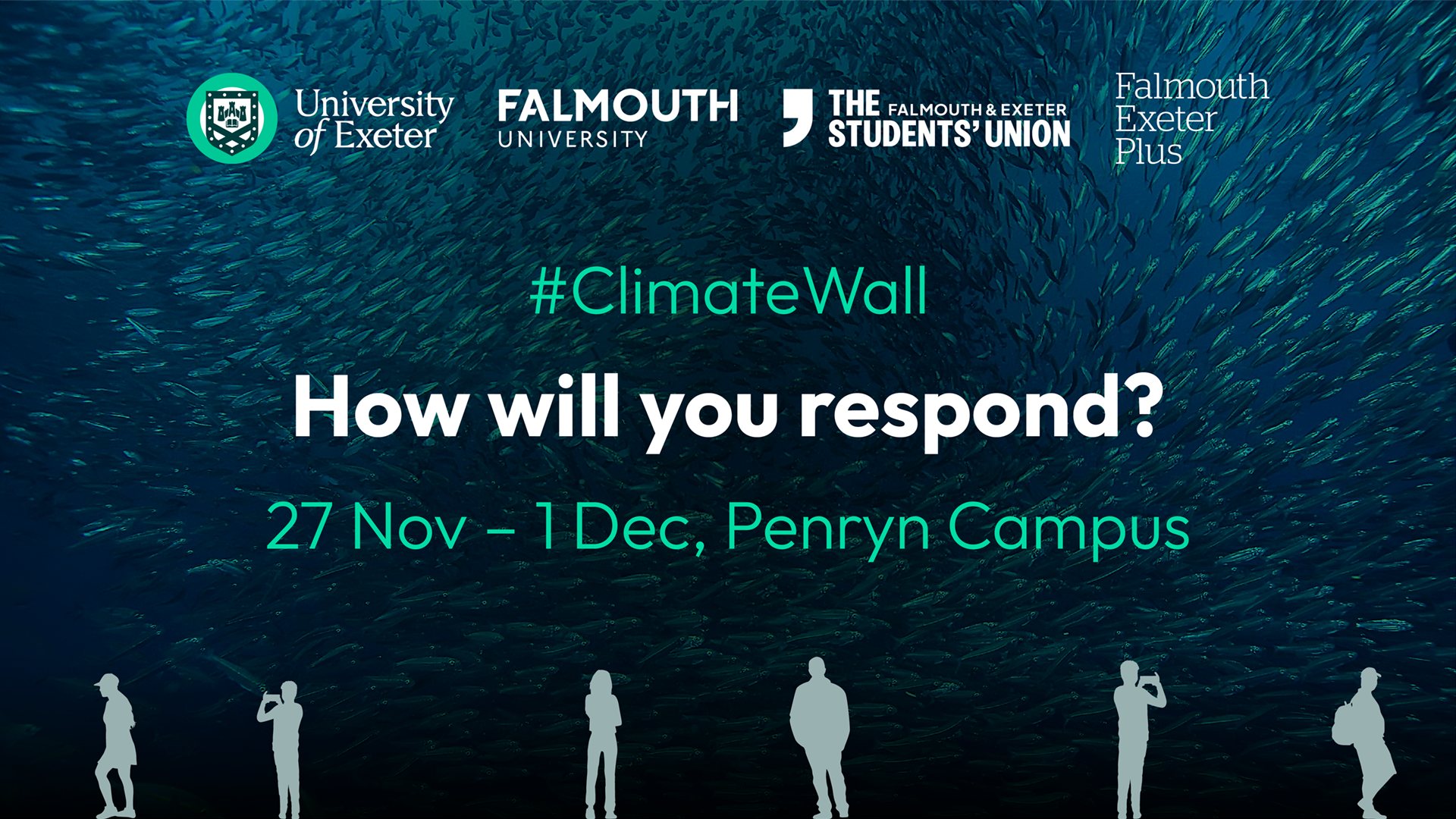 ~ minute read.
Climate Wall Comes to Cornwall
October 23, 2023
An interactive light projection "The Climate Wall" is coming to Cornwall, Penryn Campus, from 27 November – 1 December 2023. The art installation represents a moment of reflection in the lead up to COP28 in Dubai, United Arab Emirates, and will serve as a public record and reminder of how we feel about Climate Change here and now. Its aim is to encourage reflection on climate change issues, sharing responses and practical recommendations for individual and collective action.
The Climate Wall is fully funded by the University of Exeter and will be hosted on Penryn campus in collaboration with Falmouth University, FX Plus and the SU. Just as the climate and ecological emergency is a collective issue that we all face, the wall invites all those within our community to participate and share your responses.
Climate messaging provided by university climate scientists, academics and students will be projected onto an external wall via a projector which will be activated when people pass by, making the words 'dance' about the wall accompanied by film. You can add your own responses to the messaging on the wall via a QR code and your mobile phone, or in person by locking onto a word and moving it up the wall. There will also be lines of poetry on the wall in different languages, from the Green Futures COP projects. It needs darkness to run so will operate from 4pm – 9pm each evening in the outside space between the Stannary and the SU on Penryn Campus, which is jointly owned by the Universities of Exeter and Falmouth.
To celebrate the Climate Wall coming to Cornwall, staff at Falmouth University and FX Plus have arranged a complimentary collection of displays and activities which encourage visitors to reflect, connect and act on issues affecting climate change. These shall be located in the balcony area of the library from 27 November – 5 January 2024, and includes an exhibition of biodiversity specimens and a 'Reflection Space', where you can talk about your emotional response to the climate emergency, reflect upon what you have seen and place any action you wish to take upon the 'Pledge Tree'.
There will also be a screening of a short film titled 'A Day in the Boots'. The film features gardener Alasdair Garnett at FX Plus, who tends the grounds and gardens of the Tremough Estate (now known as Penryn Campus) and Falmouth campus. It is a story of how small local changes can have a large impact on our environment and reflects on an individual's sense of place and the role you can play within it. An animated timeline about the history of Penryn Campus and digital content showcasing green sustainable societies and activities will also be shown.
In addition to this, guests will be able to add information to the 'Action Collage', which will become a collaborative visualisation of the individual, community and global action taking place around us. The Action Collage will provide information on student-led and local green societies that visitors can connect with to act on the climate and ecological crisis.
On the day of the Climate Wall's arrival (27 Nov), from 5pm – 6:30pm, there shall be a special launch event in the space outside the Stannary and the SU. Martin Siegert, Deputy Vice-Chancellor (Cornwall) University of Exeter, will give a brief introduction. The Climate Wall and Launch event is open to all staff, students, and the public to attend, you are encouraged to interact with the wall, have fun and post your own message. To find out more and reserve your place at the launch, follow the link to Eventbrite.